In 2021 Tamil Nadu assembly elections, DMK alliance won the 159 seats out of 234 and AIADMK alliance won 75 seats and Stalin became Chief Minister of TamilNadu. The post analysis the results of the election based on votes, parties and alliances performances.
Vote Share
DMK Alliance had a lead over AIADMK alliance by 6%.

DMK+: 45.6%

AIADMK+: 39.5%

NTK: 6.57%

AMMK+: 2.87%

MNM+: 2.75%

NOTA: 0.75%

Others: 2.01%.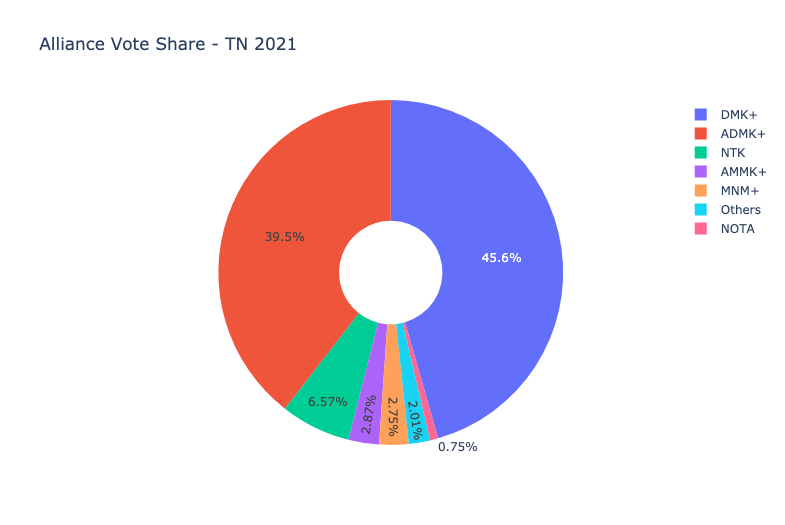 In 2016 assembly election, NOTA secured 1.1% of votes, this time NOTA received 0.75% of votes.

The majority of the postal votes was secured by DMK alliance. Total valid postal votes were 4,89,699.

DMK+: 62.13%

AIADMK+: 28.3%

NTK: 4.01%

AMMK+: 2.87%

MNM+: 2.75%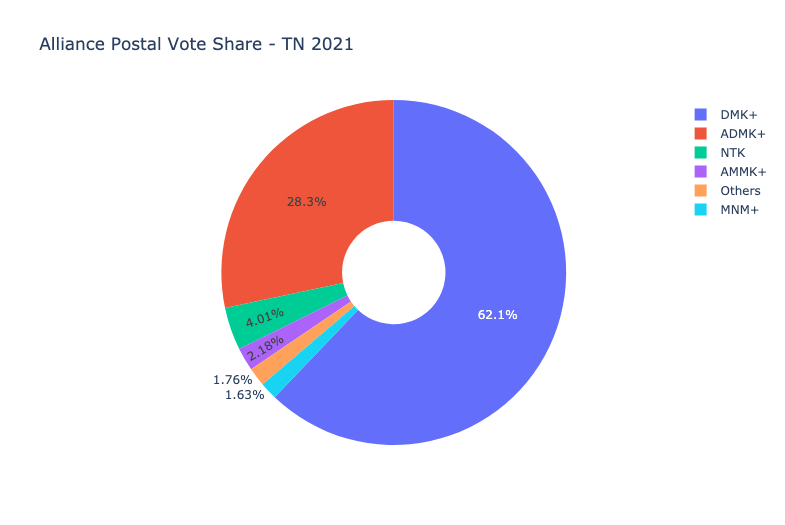 Postal votes helped two candidates win the election in DMK alliance Durai Murugan in Katpadi and Palani in Tenkasi. Both were trailing with EVM votes.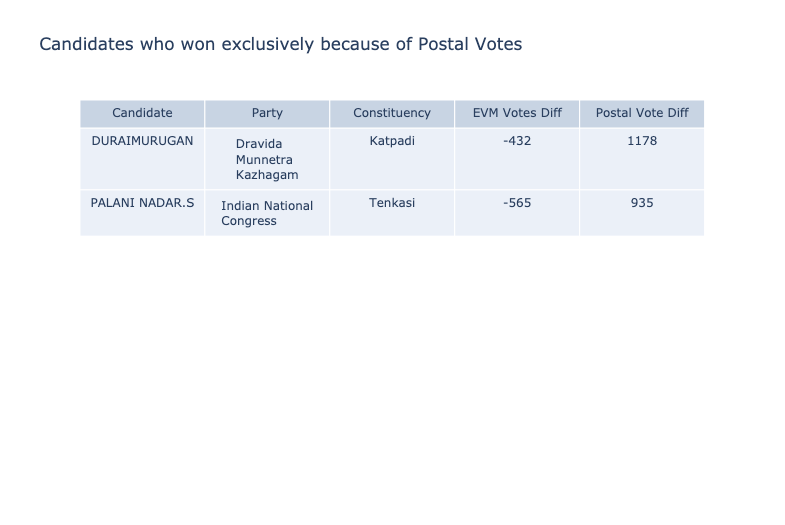 DMK alliance party wise vote polled percentage.

DMK: 46.67%

CPI: 43.78%

VCK: 42.58%

INC: 41.53%

IUML: 38.63

CPI(M): 35.97%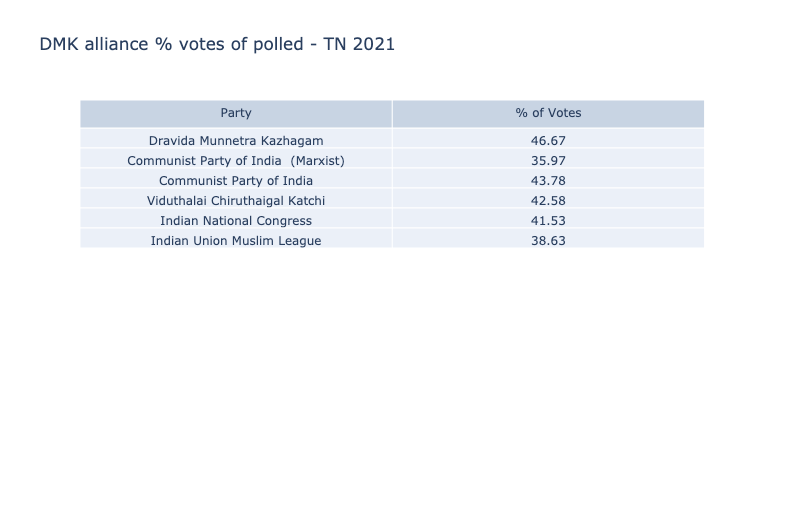 AIADMK alliance party wise % votes polled.

AIADMK: 40.23%

PMK: 37.65%

BJP: 34.46%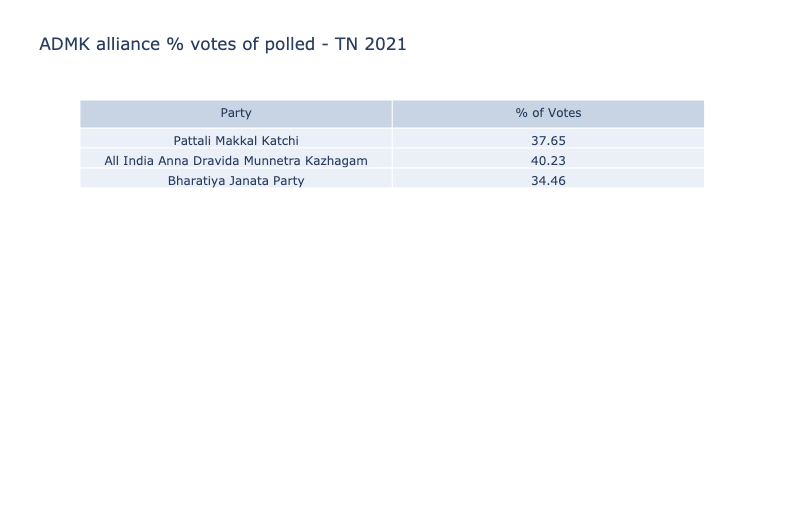 Out of 6 seats, VCK won 4 seats with an average of 42.58% of votes in each seats. Out of 4 winning seats, two were in General and two were in SC constituency types.

Independent Candidates
Seventeen candidates contested in each constituency, and 77 candidates competed in the Karur constituency and highest in the election.
Only two independent candidates polled double-digit vote percentage and one secured deposit. Hari polled 18.54% of votes(37,727) in the Alangulam constituency, and Bala Krishnan secured 13.41% of votes(23,771).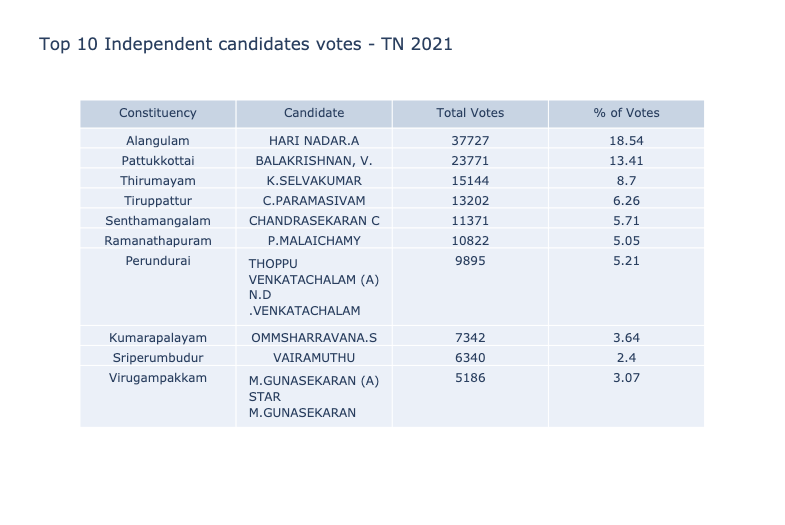 Women Candidates
405, (8.35%) women candidates contested in this election. Twelve women candidates won - seven from reserved constituencies and five from the general constituency.

DMK - 6, AIADMK - 3, BJP -2, and INC - 1.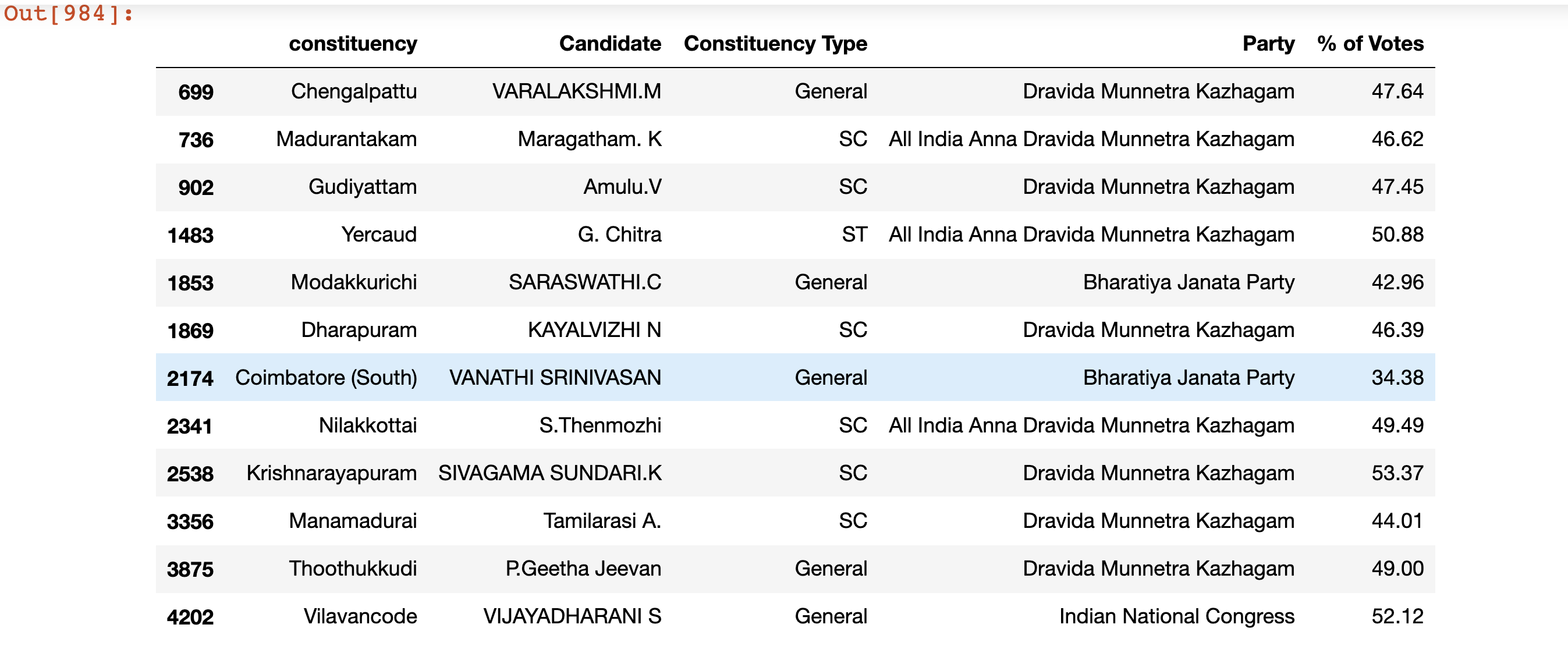 Vanitha Srinivasan from BJP in Coimbatore South secured lowest percentage of votes, 34.48%.

Vijaya Dharani from INC in Vilavancode secured highest percentage of votes, 52.12%.

ADMK and DMK alliances fielded women in 32 constituencies. In those 30 constituencies, the number of women participation was above 8.33% (average in this election). The highest women participation was in Gudiyatham - 46.27%, six women and seven men.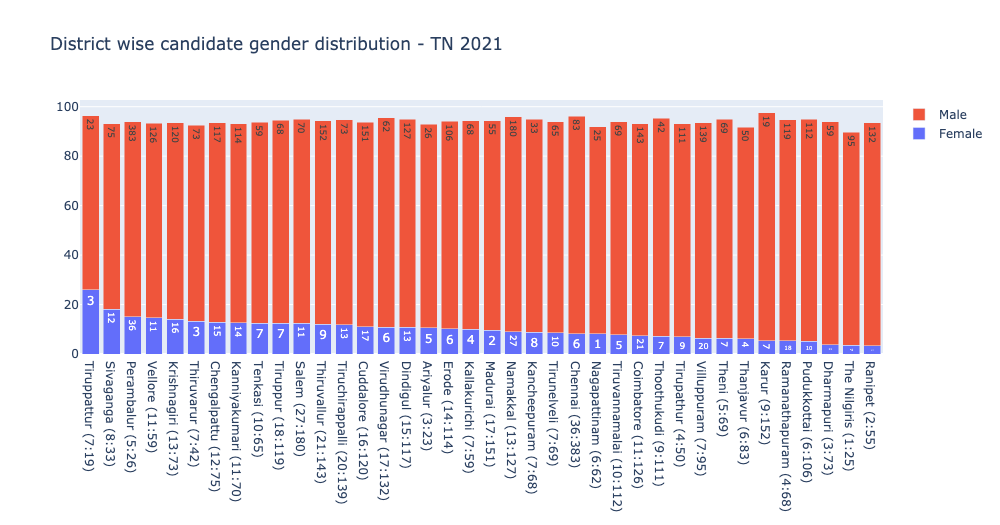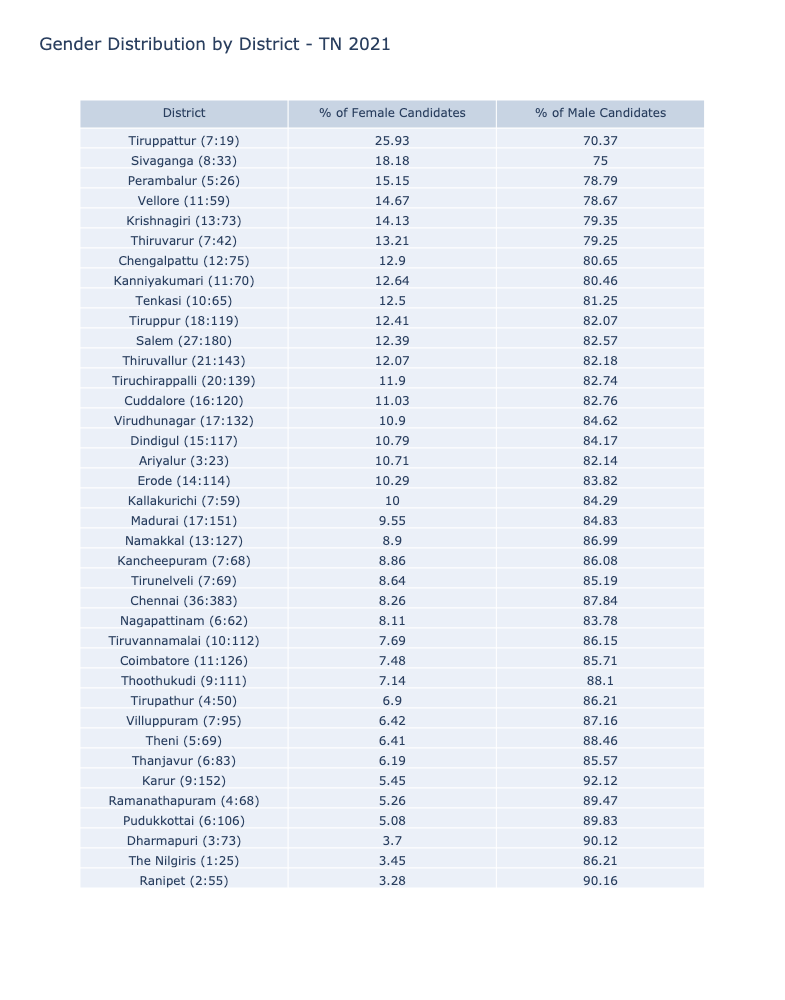 The participation of women candidates significantly goes up when recognized parties field women candidates. 36 out of 383 candidates in the Chennai district were women candidates.

PMK(1/23) and INC(1/25) each fielded one woman candidate. PMK candidate, Thilagabama in Athoor scored 13.5%, and Vijaya Dharani in Vilavancode secured 52.2%. Independent women and men scored a similar percentage of votes except for Hari N in Alangulam.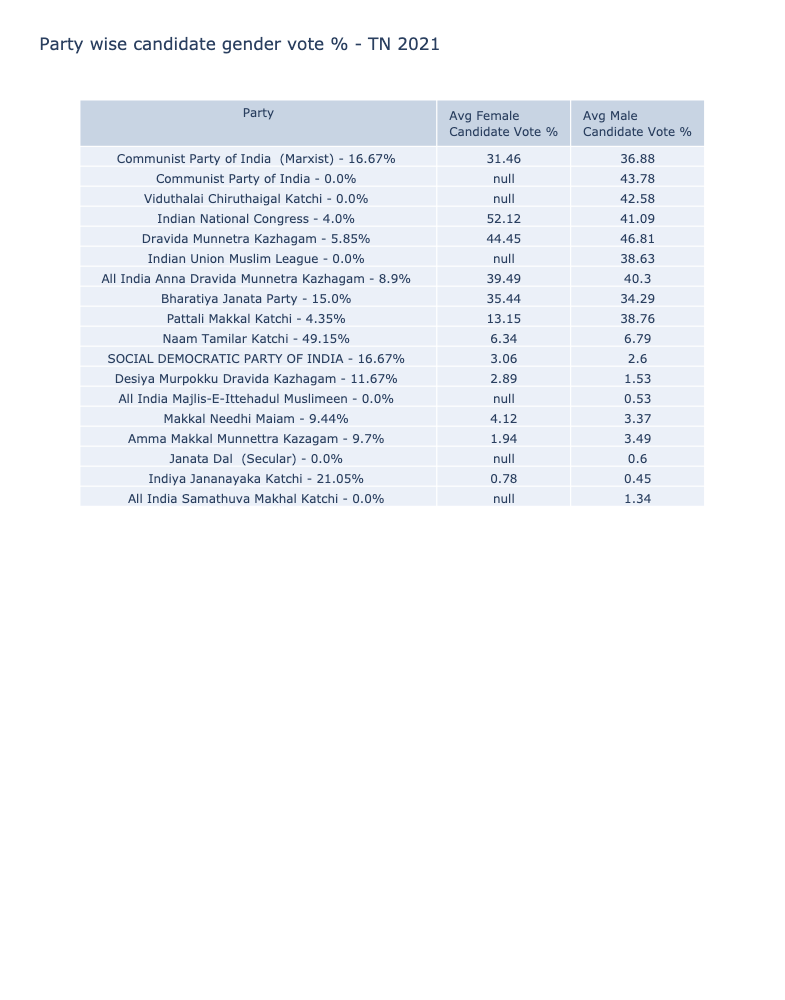 Reserved constituencies(16%) witnessed twice as many candidates as women candidates than general constituencies(8.3%). NTK fielded 80% of women in the reserved constituencies. (note: the image count does not add to 117 for women candidates).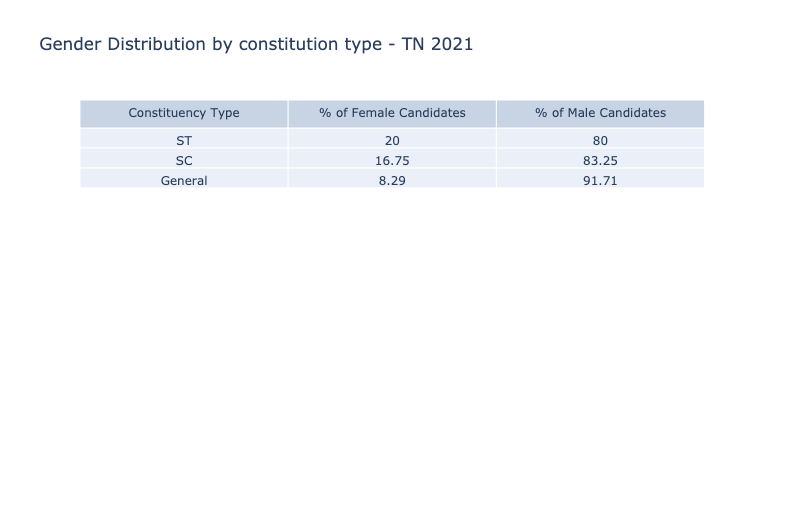 Apart from NTK(50%-50%), the ADMK alliance fielded nine women candidates than six from DMK in SC constituencies. The ADMK alliance field 11 women candidates compared to 7 women candidates in general constituencies. In ST constituencies, ADMK fielded one woman candidate, and NTK fielded two women candidates.
Close fights
32 seats were closely fought - 2% victory margin, 32 seats - 13.67% seats. In 8 seats, the winning margin was less than 1000 votes (< 0.6%). Thiyagarayanagar: 137, Modakkurichi: 281, Tenkasi: 370.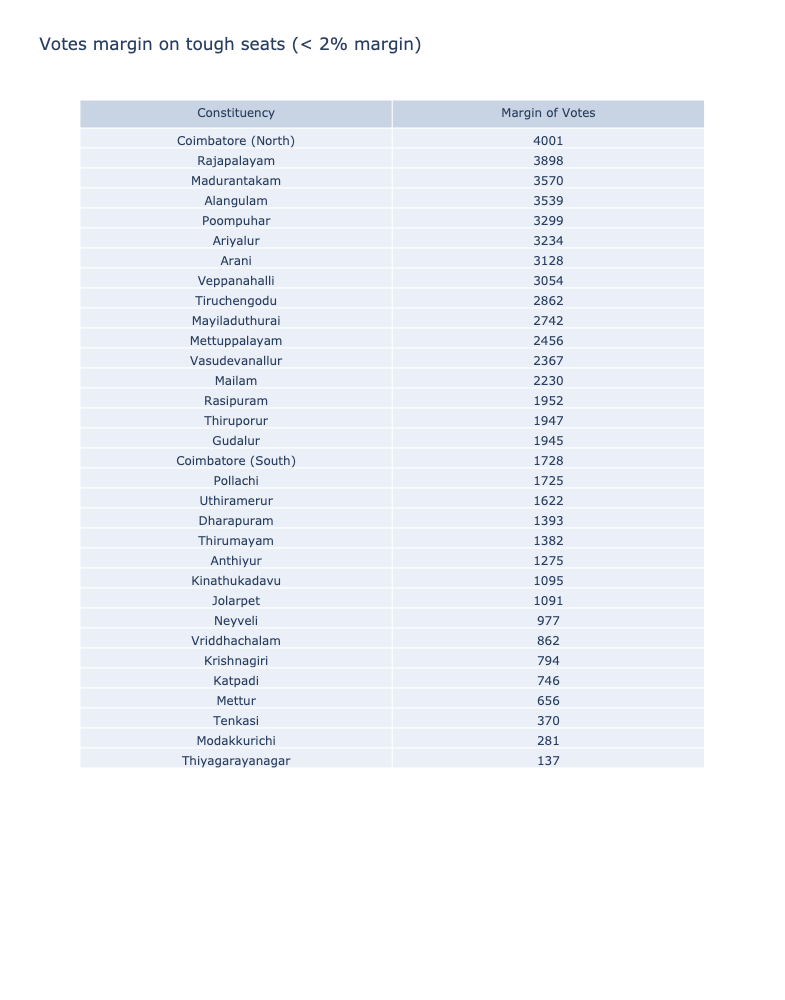 Out of 32 seats, DMK+ won on 17 seats. Out of 10 constituencies in Coimbatore, five constituencies were closely fought. ADMK+ won all the seats. Out of five constituencies in Tenkasi, three were closely fought, and ADMK+ won one and DMK+ won two seats.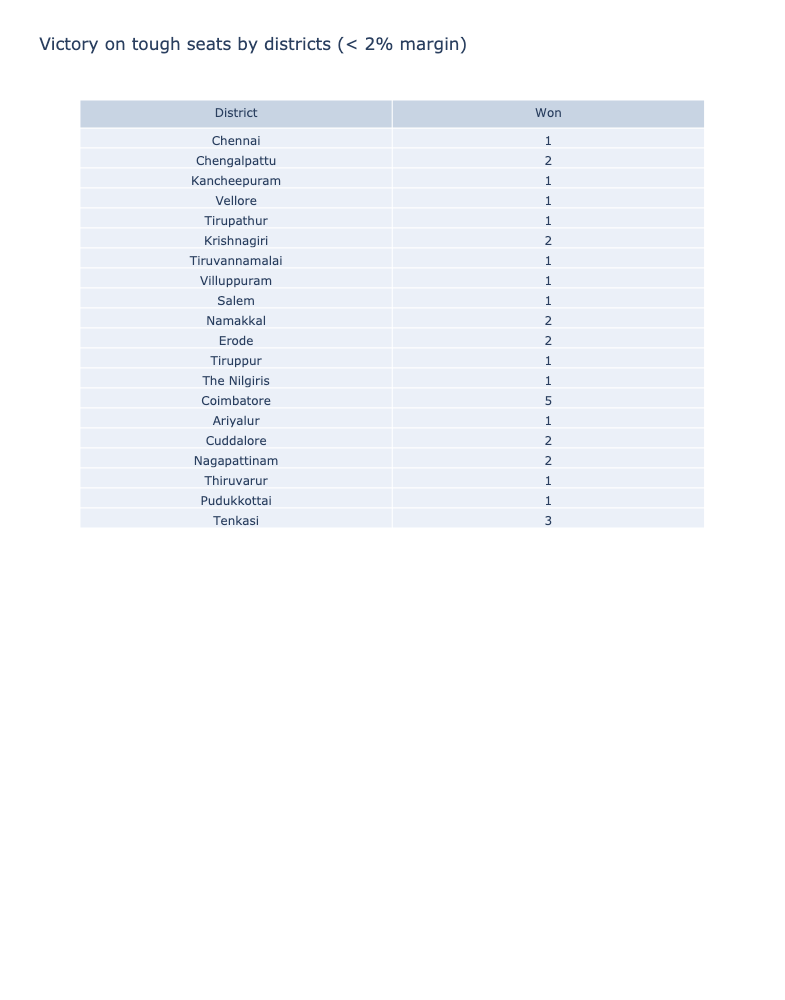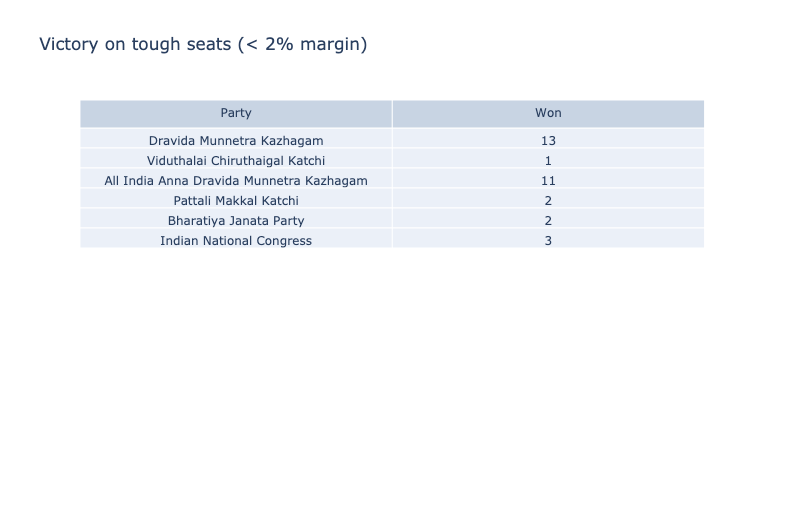 DMK alliance didn't win a single seat in Dharampuri(3 seats) and Coimbatore districts(10 seats). In Dharampuri, ADMK+ had a lead of 13.61% votes, and in Coimbatore, 6% lead. MNM+ scored 10.55% in the district(4 times higher than party average and highest for the party in any district).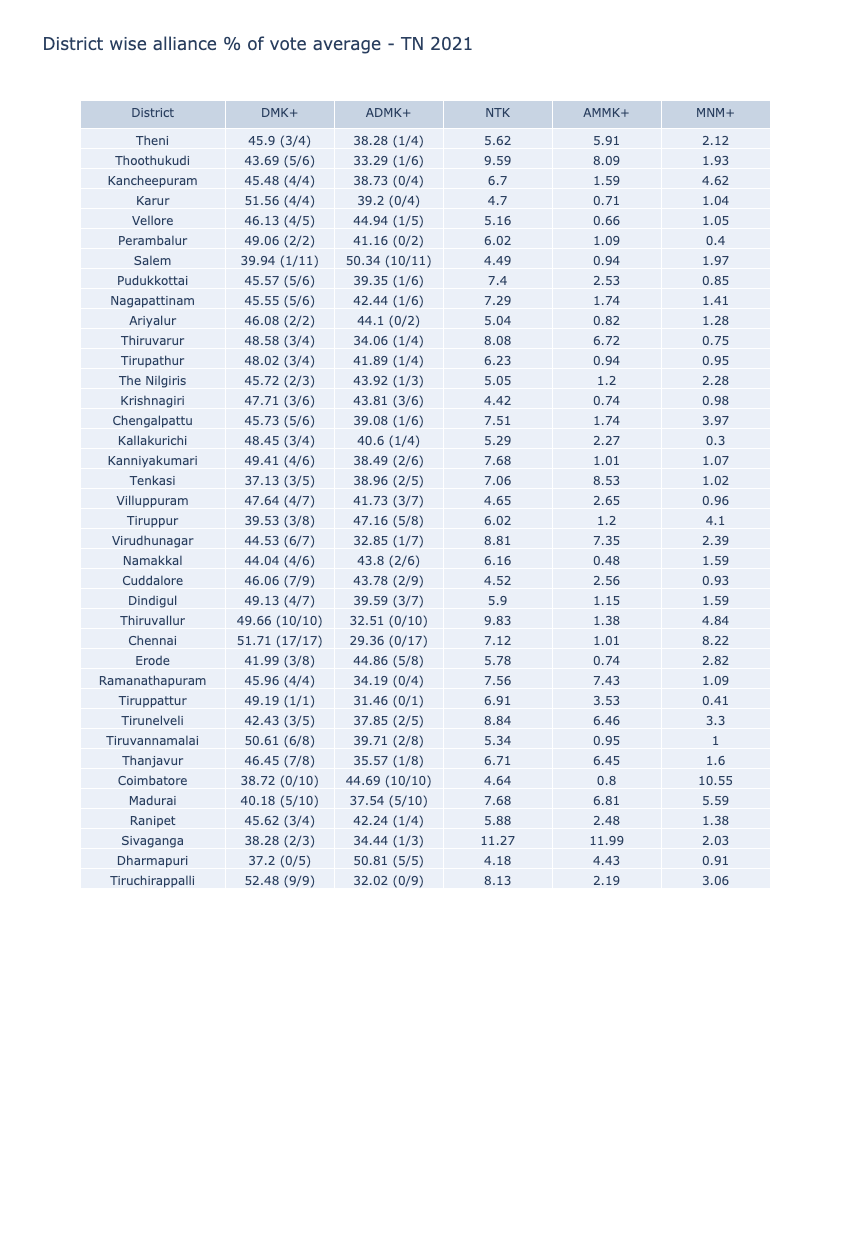 Out of 38 districts, DMK+ scored less than 45% votes in 13 districts. Sivagangai district, NTK, and AMMK+ scored 11.2% and 11.99%, respectively, and DMK won two out of three seats with 38.28% of votes - the only district where these parties secured their highest vote share.

AIADMK+ polled 2% higher than average in reserved constituencies. NTK's scored slightly(0.3%) higher than their average in reserved constituencies. MNM polled 3.23% in general constituencies compared to scheduled caste constituencies, 1.43% of votes.
NTK
Let's move on to NTK voting patterns(6.5% to 7%). Six out of the top ten NTK candidates with the highest votes are women. After Seeman, Velraj secured the highest % of votes, 16.42(deposit= 16.5%) in Thothukudi.

What's their avg vote against the winning party's constituencies? When the INC wins a seat, NTK gets their best average - 15286 and lowest when PMK wins - 9153. When DMK wins, it's 13600 and 11689 when AIADMK wins.

NTK performs better against CPM(7.75%) and INC(7.44) - 1% higher than the average of 6.5% and performs poorly against PMK - 5.93%.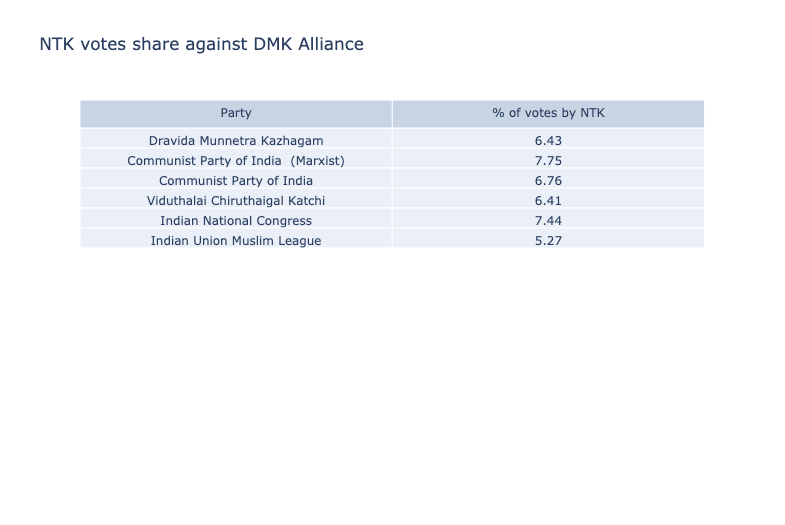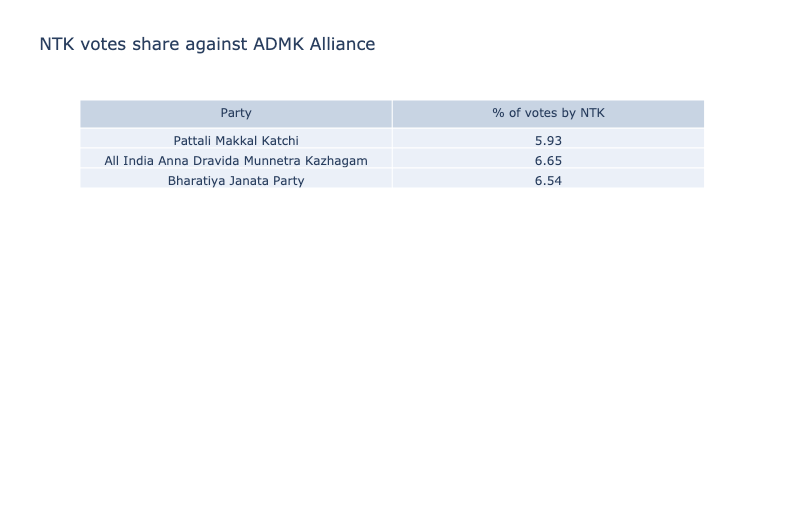 NTK's top three districts for votes are - Sivagangai, Thiruvallur, and Thotthukudi, and the lowest vote-getting districts are Dharmapuri, Krishnagiri, and Salem.
Victory Margin
In 32 constituencies, AMMK secured more than 5% of votes. In twenty constituencies(> 2% diff), AMMK votes scored more votes than losers' differences. DMK alliance won in 14 constituencies, and the ADMK alliance won 6 constituencies.

In 52% of constituencies, the DMK alliance won with more than a 10% margin. 62% of seats(46⁄75) ADMK alliance won in less than 10% margin.

Nine out of 10 most significant victory margin by percentage votes belongs to the DMK alliance. In ADMK, only Edappadi's victory was the biggest, with a 37.93% margin.

MNM secured 10.55% of votes in Coimbatore district, followed by 8.55 in Chennai.

Kamal Hassan and Dr. Mahendran secured deposits from MNM. Top three most votes came from the Coimbatore district.
Note:
There may be a discrepancy with other data sources like Wikipedia or media outlets.
In the dataset, two NTK constituency candidates are marked as male rather than marking them as female based on the claim 50% male candidates and 50% Female candidates.
References: